KarowPrime Films, in business since 1999, is a video production company based in Toronto.
We are involved in the development and production broadcast properties. We've produced a long-format thriller, a full-length documentary and a documentary series. Audiences and broadcasters will always drive the demand for our productions. We only undertake projects after thoroughly researching the subject matter, audience demand and financial viability. Our emphasis is on telling engaging stories to a broad audience.
Keeping with the times, we have various web-series on social media platforms such as Facebook and Youtube. Rounding out our production capabilities, we've produced numerous corporate video productions for live employee/vendor events. We haven't done a wedding video in a long time, but we've helped mark significant birthday celebrations for the well-heeled.
Jonathan Karlaw owns the company and has acted in various roles as either producer, director and writer on many productions. He is a member of  the Writers Guild of Canada.
You may contact Jon at Jon@KarowPrimeFilms.com
Corporate Video Production
Communicating is easy, right? Then why can so few of us do it well. Not to say that we're all klutzes, but some of us are better at getting the message across than others.
As communicators we're often challenged to get everyone on board with a product launch, or to get the team behind a change in business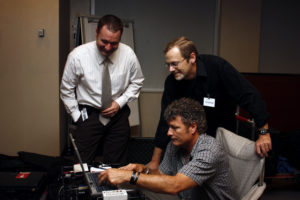 objectives or even to inspire unity and trust during a merger. These are noble tasks but they aren't always easy. Let us work with you to develop and create your video extravaganza!
We are not trying to create spin, or manufacturing demand; we're striving to improve genuine open communication. Our goal is to motivate, educate and entertain your audiences. There are tons of ideas floating around your company; we can gather them and position them so they speak to your audience. And you'll get the same pizazz and attention to detail that give to our broadcast and public productions.